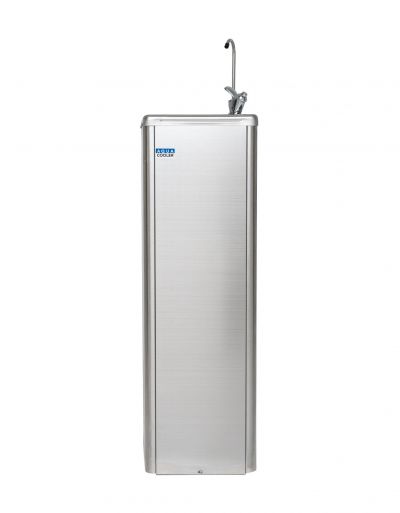 Online Price Includes GST and Shipping
Manufacturer:
AQUA COOLER Australia
Model:
M5FSS Stainless Steel
Call Us For Advice On 1300 55 32 82 or 0414 602800.
Price includes Bubbler, Glass Filler, GST and Delivery Australia Wide.
Also available in (26 litres per hour) capacities. For supply options to other countries contact us.

All have a 1.5 litre stainless steel tank within the chilling chamber to
meet peak usage periods. This tank is fabricated from industrial grade
304 stainless steel for your piece of mind.
All refrigerant gases are non-toxic, non-flammable and environmentally
sympathetic. The refrigerant flow is controlled by a capillary tube,
which has no moving parts. To give maximum heat exchange a
M5 – Uses 190 gms of R134A refrigerant
The bubbler is rated to supply 1.7 litres per minute at mains water
pressure of between 140 and 700kPa. An automatic, self-regulating
control is fitted to overcome varying mains pressure.
Water inlet – 1
/
2" male B.S.P.
Water outlet – 40mm Female F.P.V.C. pipe
The thermostat is factory pre-set.
M4/M5 – 1
/
5 h.p. capacity 230 watts
Copper tube and expanded aluminium fin.
240 volts, 50Hz. A 2 metre house cable and 3 pin plug is supplied.
PERFORMANCE TO ARI 1010-94 STANDARD
Width – 350mm Container Capacity
Depth – 350mm 20ft – 192 units
Height – 1100mm 40ft – 396 units
Twelve months comprehensive coverage.
3 years for compressor replacement